Mayor of Montego Bay, Councillor Homer Davis has given full endorsement to plans by the St James Ministers' Fraternal to strengthen partnership with the St James Municipal Corporation in a bid to restore Montego Bay to the friendly city.
 
In a meeting held on September 18, 2019, President of the St James Ministers' Fraternal, Reverend Peter Burnett and Associate Sharon Cowan, discussed plans with the Mayor to strengthen ties with local authorities to transform the city and parish through a series of spiritual and social intervention.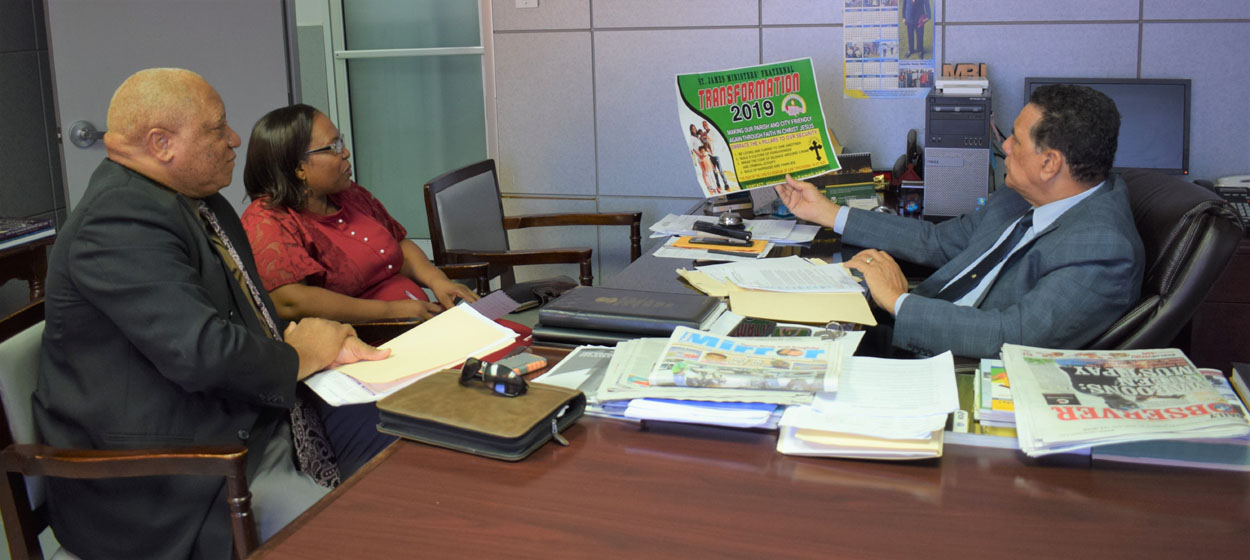 Mayor of Montego Bay, Councillor Homer Davis (right) examines the Montego Bay Transformation Poster which was presented to him by Chairman of the St. James Ministers' Fraternal, Rev. Peter Burnett (left) and Project Coordinator Sharon Cowan during a recent meeting at the Mayor's Union Street offices in Montego Bay.
The idea is to enhance parish development through different events and outreach initiatives to engage the citizenry in maintaining good moral conduct.
 
In commending the Fraternity for their support, Mayor Davis says the partnership is quite relevant and timely as both entities are dedicated to achieving the same goals for the people of St James.
 
He said "this decision to have the two entities work together was not hard to arrive at since the St James Municipal Corporation and the St James Ministers' Fraternal are poised to take on the current challenges of the city and restore it to a state of relative peace and safety".
 
Mayor Davis added that "the transformational role of the church in our society cannot be undermined. The Church has been critical in shaping lives and contributing to nation-building, however, the responsibility should be shared. We must all play our part in ensuring peaceful families and safe communities."
 
A Public Awareness campaign to build community relations is the next slated initiative for the St James Ministers' Fraternal.
Project Coordinator, Sharon Cowan relayed that the initiative will embrace and promote the pillars of security by taking on a faith-based approach and reaching out to members of the work, school and home communities to foster good relationships and community building.