On the heels of the gruesome killing of three siblings in Irwin Heights, Montego bay on Wednesday March 09, 2022, a number of Councillors of the St. James Municipal Corporation have strongly condemned the recent upsurge in crimes against youth in the parish.
The issue was raised at the Corporation's regular monthly meeting on Thursday, March 10, 2022, where several Councillors spoke out in unison against the spate of crimes occurring across the parish, and particularly the killing of siblings Peta-Gaye Cook and twin brothers Jevaughn and Jevaughnie Stewart.
Deputy Mayor of Montego Bay, Councillor Richard Vernon who chaired the meeting said crime has been negatively impacting Jamaica and Jamaicans for years and has become even more alarming when it seems that the focus of have now shifted their focus to the youth.
 
Councillor Vernon, in encouraging Jamaicans to increase their vigilance, also urged citizens to also support the government and its anti-crime initiative, while also making a concerted effort to expose criminals with whom they may be familiar.
 
"Since the start of the year, we have seen here in St. James, the killing of a few children. We strongly condemn the killing of our children and indeed all crimes against children. We can't at any point in time allow these criminals to continue their acts which are aimed at the deterioration of the moral fabric of our society. We have people within our communities who have certain information and refuse to give that information to the police. At all times we have to encourage members of communities to get on board and support the government's initiative to get every illegal gun," Councillor Vernon said.
 
He is urging citizens to "find a Police you trust and give the information about these criminals. These criminals do have mothers, sisters, aunts and brothers-they are not aliens. They grow among us and so if you know them, please talk to the police".
 
Meanwhile, Councillor for the Welcome Hall Division, Gregory Wint said he is far from pleased with the slow pace at which murder investigations in St. James have been taking place especially in recent times.
 
Making reference to the December 31, 2021 killing of former St. James Municipal Police Officer, Jermaine Evans and the killing earlier this year of a 9 year old Autistic boy, Gabriel King, Councillor Wint said "when I look at the slow pace of investigation, sometimes I wonder in plain Jamaica language "if a dawg a dead", because it is only when a dog is killed I see no push from persons who are expected to do these investigations. I think every life is important…The investigations are going at a snail's pace".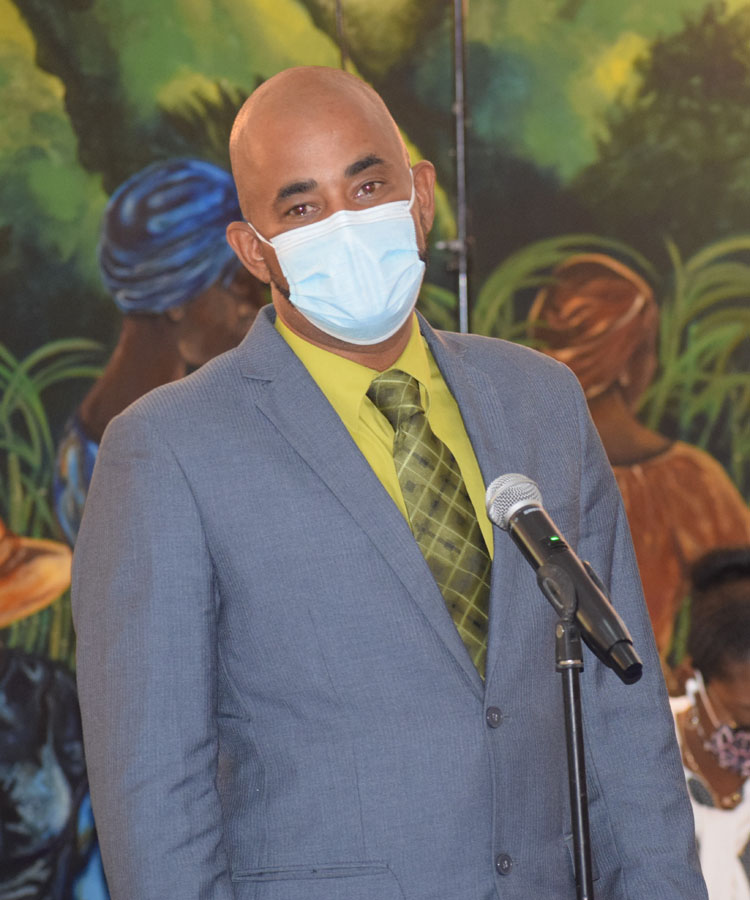 Councillor of the Welcome Hall Division, Gregory Wint addresses the Regular Monthly Council meeting on Thursday, March 10, 2022. 
 
Also adding his voice to the discussion was Councillor for the Montego Bay South East Division, Arthur Lynch who said it seems that the nation's children are under attack from criminals and is calling on the Child Protection and Family Services Agency, CPFSA, and the Office of the Children's Advocate to do more in offering grief counseling for children who are victims of crime across Jamaica.
 
"I am wondering if there is (now) an attack on our children. As a father of teenage children, I am worried and therefore I am calling on the CPFSA and the Children's Advocate to do more in reaching out to children who are victims of crime. The Police have not yet even given any indication that they have established any leads for the recent murder of a 9 year old boy and the latest incident where the lives of three siblings were snuffed out here in St. James. I am also calling on the citizens of St. James to speak out against crime and violence as far too many crimes taking place in our parish. We will let the criminals know that the St. James Municipal Corporation does not condone crime, including crimes against our children".
 
The work of the Physical Planning Department in the establishment of civic addresses for every residence in the parish was lauded by Councillor for the Somerton Division, Mark McGann who said that development can be a handy tool to be used by the Security Forces in their fight against crime and criminals.
 
"I want to commend the Municipal Corporation's Physical Planning Department for undertaking the task of establishing civic addresses for communities. This initiative will give the Police, the Ambulance and even the Fire Department better information as to where an incident is taking place, where someone is in need of help and if there is any emergency taking place. Too often addresses are given for a broad area and the establishment of civic address numbers for every residence will be a game changer in St. James.