Mayor of Montego Bay and Chairman of the St. James Municipal Corporation, Councillor Homer Davis is delighted over the recent washing and sanitizing of the Charles Gordon Market, the premier Municipal market in the city.
 
The washing and sanitizing of the market was carried out last weekend and was done in wake of the outbreak of the Corona Virus, COVID-19 in the island.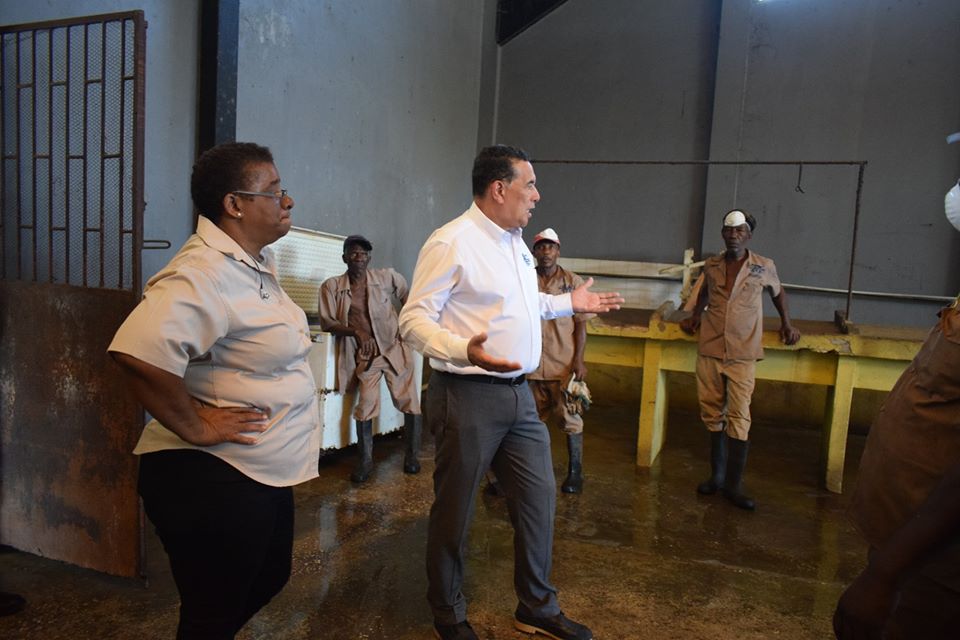 Mayor Davis meeting and addressing employees at the Charles Gordon Market.
 
On a tour of the market, Mayor Davis who was accompanied by Superintendent of Roads and Works, Bryce Grant, Commercial services Manager, Pamella March and Acting Manager of the market, Mickoyan Robinson, expressed satisfaction with the detailed approach which was taken by the Corporation's employees who carried out the task.
 
Mayor Davis said "this is the first time in many years that the market is being given a deep cleaning and from what I have been told, several truckloads of garbage have been removed from the facility. I am sure that apart from looking better, the vendors and consumers who will be visiting the market, will feel and see the difference".
 
He added that the St. James Municipal Corporation plans to ensure that the facility remains in tip-top shape going forward as a cleaning plan has been put in place.
 
"I will ensure that the Corporation keeps its end of the bargain to undertake a once per month washing and deep cleaning of the market which will ensure that the facility remains in good shape and that there is not a pile-up of garbage", Mayor Davis stated.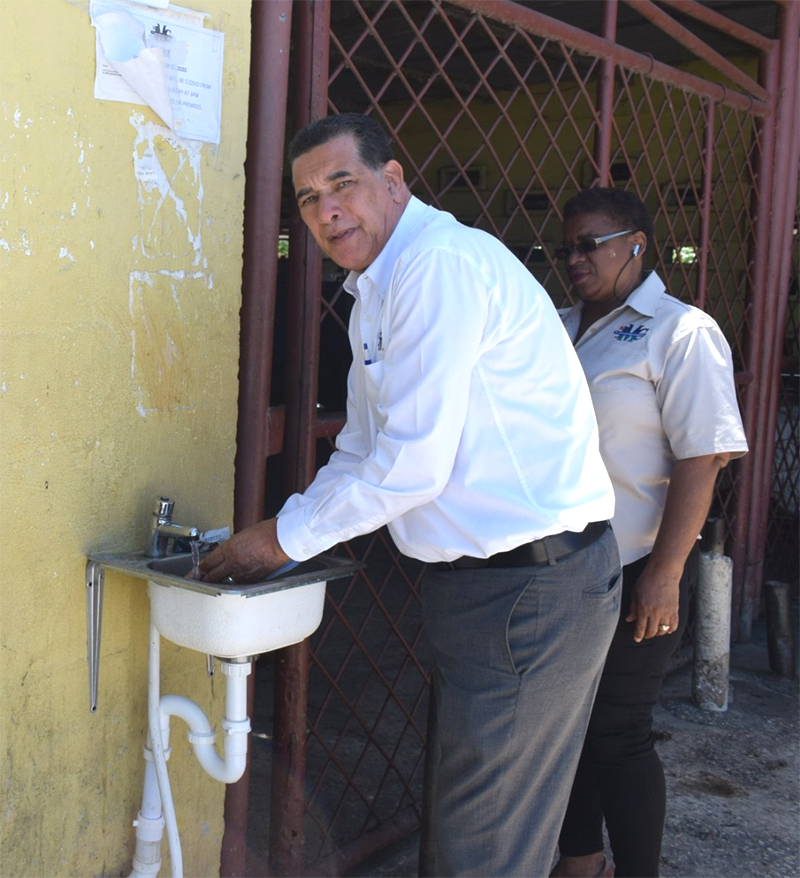 Mayor Davis using one of the hand wash basins at the Charles Gordon market. Also sharing the moment is Commercial services Manager Pamella March at right.
 
He is however challenging vendors at the market to do what is required of them to ensure that the task of keeping the market clean does not become onerous.
 
Mayor Davis said "the Corporation has started the process of cleaning and sanitizing and that will continue. I want to implore the vendors and indeed the consumers who use the facility to do so with care. Pick up after yourselves and place your garbage in one of the several receptacles which are at the market. We all must share the responsibility to keep the Charles Gordon Market clean, not just because of the outbreak of COVID-19, but basically for the good health of everyone".
 
Meanwhile, Mayor Davis in paying tribute to the employees of the Corporation who washed and sanitized the market said "these people are truly our unsung heroes. They have shown dedication to the task of cleaning the market…task which has not been done for several years. I really want to thank them for their efforts and assure them that the Corporation will do all it can to keep the market clean".
 
The Corporation has also installed several hand-wash basins at the market for use by both vendors and shoppers.