Montego Bay's Mayor and Chairman of the St. James Municipal Corporation, Councillor Homer  Davis says the time has come for the nation's leaders at all levels to take a long hard look at the role they are playing in aiding Jamaica's development while occupying those positions.
Addressing the annual Salvation Army's Western Divisional Prayer Breakfast at the Grandiosa Resort in Montego Bay on Saturday March 9, 2019, Mayor Davis said Jamaica is in need of astute leadership in order to help the citizens achieve their full potential.
Mayor Davis said "I take this opportunity to urge us as leaders to refocus on the significant role we must play in the healing and transformation of the nation. As leaders, we must help the people of the country take stock of themselves and find the means and the will to advance with a sense of purpose."
He is also urging leaders to remain mindful of the many groups, organizations, communities, and family units that look to and depend on them for guidance, help and examples to emulate.
"I ask everyone to remember that at whatever level we lead, we need to be the best examples of all the good that we wish for our wonderful nation. Let us lead from the front…Let us be bold in our leadership roles and let us lead with humility." Mayor Davis said.
Meanwhile in commending the Salvation Army for its vision in staging the annual prayer breakfast, Mayor Davis said the event marks another timely intervention by an arm of the church for and behalf of Jamaica.
 
He said "this prayer breakfast marks yet another church-based intervention for and behalf of the citizens of our wonderful nation. I am pleased to be associated with this event and to indicate to express appreciation to the Salvation Army for this very timely intervention as our country, our parish and indeed our city-Montego Bay can only become better through God's handy work."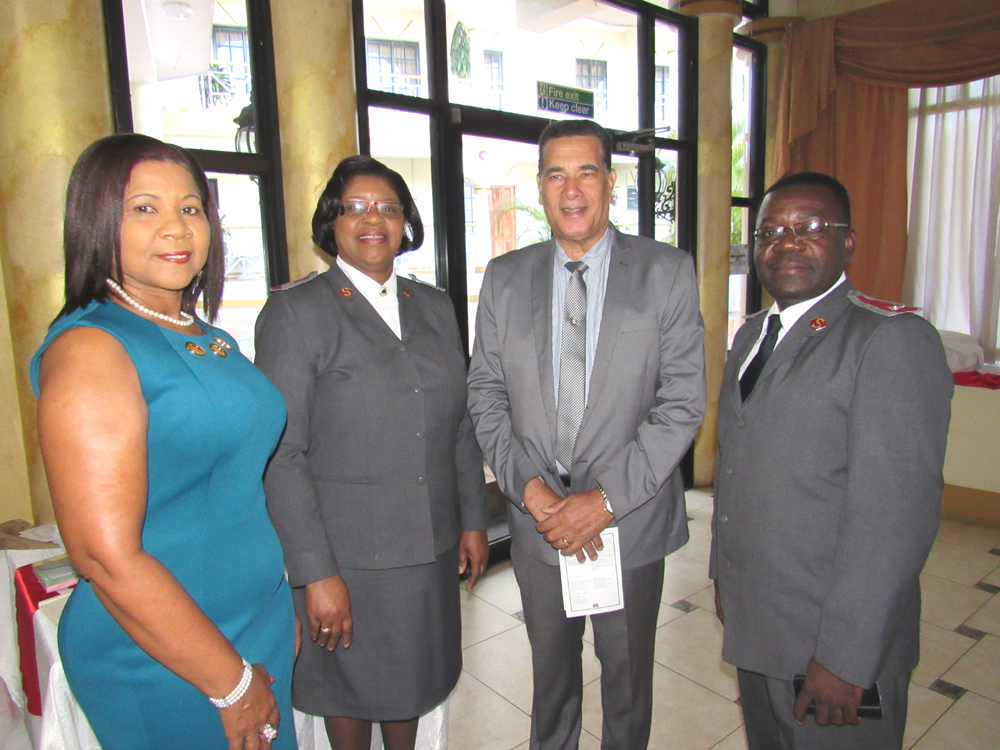 Montego Bay's Mayor, Councillor Homer Davis (2nd right) shares lens time with Western Divisional Commander of the Salvation Army, Major Nana Agyemang  (right) and his wife Major Marlene Agyemang (2nd left) as well as Chairman of the Western Divisional Advisory Board of the Salvation Army, Joan Johnson during the annual Prayer Breakfast at the Grandiosa Hotel in Montego Bay on Saturday March 9, 219. Mayor Davis was one of the special guest speakers at the breakfast.